Product Description
FRONT WHEEL BEARING KIT
KIT CONTAINS DOUBLE SEALED BEARINGS
THIS KIT WILL REPAIR THE FRONT WHEEL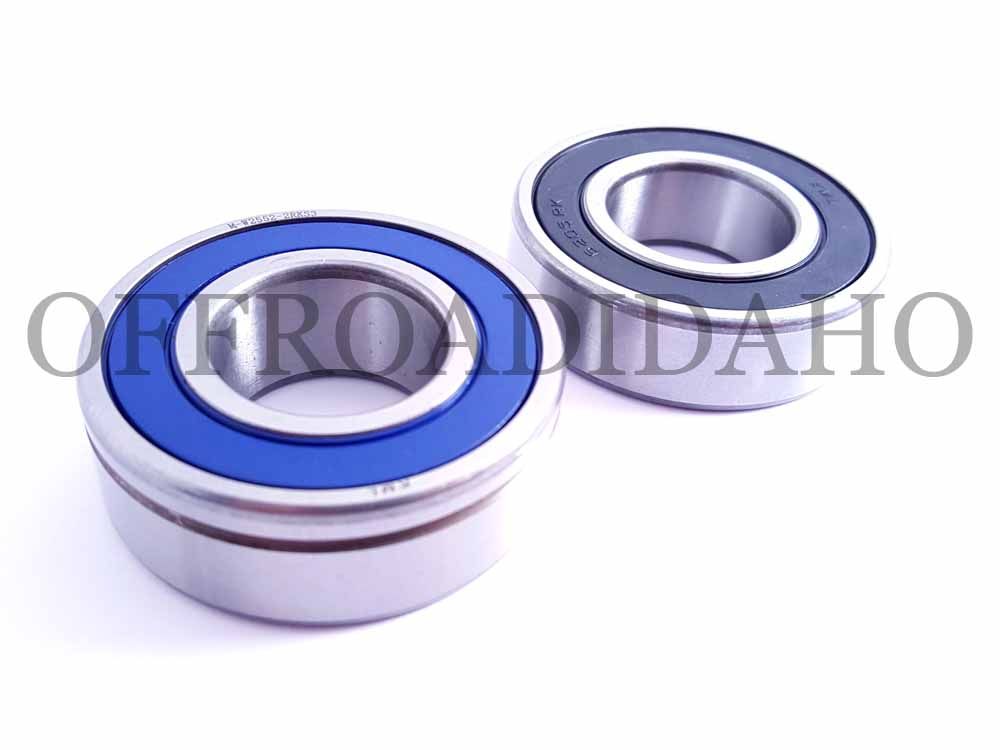 25-1691
ACTUAL PHOTO OF THE KIT YOU WILL RECEIVE
FITS HARLEY MODELS:
2012-2016 Dyna FatBob - FXDF
2014-2016 Dyna Low Rider - FXDL
2012-2016 Dyna Street Bob - FXDB
2012-2014 Dyna Super Glide Custom - FXDC
2012-2016 Dyna Switchback - FLD
2012-2016 Dyna Wide Glide - FXDWG
2008 Electra Glide Classic EFI - FLHTC
2009-2013 Electra Glide Classic - FLHTC
2008 Electra Glide Standard EFI - FLHT
2008-2009 Electra Glide Standard - FLHT
2008 Electra Glide Ultra Classic EFI - FLHTCU
2009-2016 Electra Glide Ultra Classic - FLHTCU
2015-2016 Electra Glide Ultra Classic Low - FLHTCUL
2010-2016 Electra Glide Ultra Limited - FLHTK
2015-2016 Electra Glide Ultra Limited Low - FLHTKL
2011-2013 Heritage Softail Classic - FLSTC
2008 Night Rod EFI - VRSCD
2008 Night Rod Special EFI - VRSCDX
2009-2015 Night Rod Special - VRSCDX
2008 Road Glide EFI - FLTR
2009 Road Glide - FLTR
2010-2016 Road Glide - FLTRX
2015-2016 Road Glide Special - FLTRXS
2011-2013 Road Glide Ultra - FLTRU
2008 Road King EFI - FLHR
2009-2016 Road King - FLHR
2008 Road King Classic EFI - FLHRC
2009-2013 Road King Classic - FLHRC
2011-2013 Softail Blackline - FXS
2011 Softail Cross Bones - FLSTSB
2011-2013 Softail Deluxe - FLSTN
2011-2013 Softail Fat Boy - FLSTF
2011-2013 Softail Fat Boy Lo - FLSTFB
2011 Softail Rocker C - FXCWC
2012-2016 Softail Slim - FLS
2008 Street Glide EFI - FLHX
2009-2016 Street Glide - FLHX
2014-2016 Street Glide Special - FLHXS
2008 V-Rod EFI - VRSCAW
2012 V-Rod 10th Anniversary Edition - VRSCDX ANN
2009-2015 V-Rod Muscle - VRSCF


PERFORMANCE OFFROAD
6686 MAIN STREET
BONNERS FERRY, ID 83805
208-267-ATVS
BE SURE TO CHECK OUT OUR EBAY STORE FOR OTHER GREAT ITEMS !!
WE OFFER THE AREAS LARGEST SELECTION OF AFTERMARKET ATV, MOTORCYCLE AND SNOWMOBILE PARTS & ACCESSORIES
IF YOU HAVE A QUESTION SIMPLY MESSAGE US THROUGH EBAY MESSAGING
WE LOOK FORWARD TO SERVING YOU !!
WE STRIVE TO PROVIDE YOU WITH THE BEST SERVICE POSSIBLE!
WE DO COMBINE SHIPPING ON MULTIPLE PURCHASES!!  PLEASE REQUEST AN INVOICE BEFORE PAYING!!
UPON RECEIPT OF PAYMENT, WE WILL TRY TO SHIP MOST ITEMS THE SAME OR NEXT DAY.  AFTER PAYMENT IS RECEIVED.
IN AN EFFORT TO KEEP SHIPPING COSTS LOWER, WE SHIP MOST ITEMS VIA THE US POSTAL SERVICE.  HOWEVER, IF YOU WOULD LIKE TO CHOOSE ANOTHER CARRIER, YOU MAY DO SO BY CONTACTING US THROUGH EBAY MESSAGING.  KEEP IN MIND THAT OTHER CARRIERS MAY BE MORE EXPENSIVE, AND DELIVERY IS USUALLY NO MORE TIMELY.
208-267-ATVS (2887)
WE CANNOT GUARANTEE SHIPPING TIMES, ESPECIALLY ON INTERNATIONAL SHIPMENTS.  DOMESTIC PARCEL POST OR MEDIA MAIL CAN TAKE UP TO TWO WEEKS DELIVERY TIME.  INTERNATIONAL PACKAGES USUALLY TAKE BETWEEN 10 DAYS AND 6 WEEKS FOR DELIVERY.  USPS SHIPPING NUMBERS SHOW DELIVERY CONFIRMATION, NOT NECESSARILY TRACKING INFORMATION.  USPS DOES NOT TRACK ALL ITEMS IN ROUTE DOMESTICALLY, ONLY IF THE PACKAGE IS BY CHANCE SCANNED ALONG THE WAY, WILL AN UPDATE BE SHOWN ON LINE.  IF THE ITEM IS NOT SCANNED IN ROUTE, THE MESSAGE ON LINE WILL SIMPLY SHOW THAT A SHIPPING LABEL HAS BEEN PRINTED.  OUR PACKAGES ARE PICKED UP THE SAME DAY OR NEXT DAY BY A USPS CARRIER, SO THEY ARE IN ROUTE THE SAME DAY OR NEXT DAY THAT A SHIPPING LABEL IS GENERATED.  USPS DOES NOT TRACK INTERNATIONAL PACKAGES AT ALL.  INTERNATIONAL PRIORITY MAIL PACKAGES WILL ONLY SHOW THAT A LABEL WAS PRINTED.  INTERNATIONAL FIRST CLASS PACKAGES WILL SHOW RECEIPT THAT THE ITEM WAS ACCEPTED BY AN USPS EMPLOYEE.  REGARDLESS, WHETHER YOU ARE DOMESTIC OR INTERNATONAL, YOU SHOULD RECEIVE AN AUTOMATIC EMAIL GENERATED BY PAYPAL WITH A SHIPPING NUMBER, BUT KEEP IN MIND THAT YOU MAY NOT BE ABLE TO TRACK YOUR PACKAGE USING THIS NUMBER ON LINE.
INTERNATIONAL BUYERS MAY BE CHARGED CUSTOMS FEES AND/OR DUTIES AS THE ITEM ENTERS THEIR COUNTRY.  THE FEES AND/OR DUTIES VARIES FROM COUNTRY TO COUNTRY AND FROM ITEM TO ITEM.   THESE FEES AND/OR DUTIES ARE LEVIED AFTER SHIPMENT AND THEREFORE OUT OF OUR CONTROL.
WE GUARANTEE TO SHIP YOU EXACTLY WHAT IS DESCRIBED.  IF OUR LISTING IS WRONG, WE ACCEPT FULL RESPONSIBLITY.  WE WILL PAY RETURN SHIPPING AND ISSUE A FULL REFUND IF NO SUBSTITUTE IS AVAILABLE, OR WE WILL SEND THE CORRECT ITEM AT NO ADDITIONAL COST.  IF THE MISTAKE IS MADE BY THE BUYER, WE WILL ACCEPT A RETURN.  RETURN SHIPPING COSTS AND SUBSEQUENT SHIPPING FOR THE CORRECT ITEM ARE THE RESPONSIBLITY OF THE BUYER.  HOWEVER, THE ITEM IN QUESTION MUST BE RETURNED TO ISSUE A REFUND OR SUBSTITUTE.  NO RESTOCKING FEES WILL BE CHARGED FOR EXCHANGES, BUT IN THE CASE OF A REFUND, THERE WILL BE A 25% RESTOCKING FEE TO COVER EXPENSES INCURRED.
IF YOU HAVE A DEFECTIVE ITEM, WE WILL TRY TO HELP WITH ANY PRODUCT DEFECTS THAT MIGHT OCCUR.  ANY PRODUCT WARRANTIES, HOWEVER, ARE THOSE MADE BY THE MANUFACTURER OF THE PRODUCTS.  IF YOU HAVE A WARRANTY ISSUE, WE WILL HELP ASSIST YOU TO THE BEST OF OUR ABILITY.  AS WITH A RETURN TO ANY STORE, YOU MUST RETURN THE DEFECTIVE ITEM, BEFORE A WARRANTY CAN BE CONSIDERED.
208-267-ATVS (2887)
WE SHIP MOST ITEMS WORLDWIDE & DO OFFER DISCOUNTS FOR MULTIPLE ITEMS.
BE SURE TO CHECK OUT OUR EBAY STORE FOR ALL YOUR MOTORCYCLE, ATV & UTV NEEDS.
IF YOU DONT SEE WHAT YOU ARE LOOKING FOR, JUST MESSAGE US THROUGH EBAY MESSAGING.  WE'LL GLADLY CREATE A LISTING FOR NEW ITEMS.  WE VALUE OUR BUYER'S INPUT ON WHAT WE OFFER THROUGH EBAY.
THANK YOU FOR YOUR BUSINESS & VISIT AGAIN SOON!
PERFORMANCE OFFROAD
208-267-ATVS
Sellebrity Analytics
Industrial Bearings Solutions has been supplying quality precision components to the best of UK and European manufacturing.
With highly qualified staff located throughout the SG, USA. Industrial Bearings Solutions continue to act as exclusive representatives to a number of leading International component manufacturers from Europe, USA and Japan, all approved to the latest ISO9001 and AS9120 quality standards. Industrial Bearings Solutions offer a high level of technical & commercial service about FRONT WHEEL AXLE BEARING KIT HARLEY 2011 SOFTAIL CROSS BONES FLSTSB 11 to customers in this crossed roller bearings market, and with the support of our dedicated sales partners, also across Europe.
Whether you require Precision Bearings,FRONT WHEEL AXLE BEARING KIT HARLEY 2011 SOFTAIL CROSS BONES FLSTSB 11,Gears or Drives, we have the products FRONT WHEEL AXLE BEARING KIT HARLEY 2011 SOFTAIL CROSS BONES FLSTSB 11, together with a high level of technical support, to help you turn your ideas into engineering solutions. Contact us today to discuss your requirements.
crossed roller bearings are bearings for precision applications that correspond in their dimensions to ISO dimension series 18 in accordance with DIN 616. They comprise outer rings, inner rings, rolling elements and plastic spacers. The outer ring is split and is held together by three retaining rings.
Due to the X arrangement of the rolling elements, these bearings can support axial forces from both directions as well as radial forces, tilting moment loads and any combination of loads with a single bearing position. This allows designs with two bearing positions to be reduced to a single bearing position.crossed roller bearings are very rigid, have high running accuracy and are supplied with normal clearance, little clearance or preload. The bearing outer rings can be easily located in the adjacent construction by means of clamping rings.
If you want to know more information about FRONT WHEEL AXLE BEARING KIT HARLEY 2011 SOFTAIL CROSS BONES FLSTSB 11,Please send email to us freely.Thanks.Industrial Bearings Solutions