Product Description
850cc Bosch Fuel injectors, Big Bore Top-Feed Fuel Rail Conversion Kit & Pigtail Injector Connectors for Rb25det R33 GTS-T Engine!
Looking for bigger  injectors for your high powered r33 rb25 Nissan? Look no further. Auction includes a set of 6(pcs) Bosch 850cc High Impedance Fuel injectors, Custom Big Bore top-feed fuel rail conversion kit, and Plug & Play fuel injector connector adaptors. Our Injectors are flow tested, flow matched, and sold with flow sheet along with injector latency data.  No cutting or soldering wires necessary! This Kit will fit  Nissan Rb25det R33 GTS-T with factory intake manifold or forward facing intake manifold only! This is a rare kit in which you will not find a top-feed fuel rail kit that will fit the factory r33 gts-t intake manifold anywhere in the world! 
HERE IS A WRITE UP ON THE INSTALLATION OF OUR KIT:    http://www.trak-life.com/diy-converting-top-feed-injectors-r33-gts-t-skyline-rb25det/
 At the engines stock fuel pressure of (43.5psi) the injectors can support engines making up to 700hp (@ 80% duty). At 4bar fuel pressure the injectors can support engines making up to 800hp. The injectors utilize a cone spray pattern which will provide proper fuel atomization resulting in smoother idle, and clean combustion characteristics. With the combination of a balanced set and great fuel atomization, you will achieve light and partial throttle drivability, lower emissions, easier tuning, and more power output to the wheels.
STARTING PRICE IS SUPER CHEAP AND NO RESERVE!! Shipping to U.S.A buyers is FREE!. Shipping to International Buyers is $49.99USD.   THE KIT WILL BE SHIPPED SAME DAY PAYMENT IS MADE.
INJETORS NOT YOUR SIZE? 750cc and 1000cc Injector Size Available. Please Email for price and availability.
Get Genuine Sard Fuel Pressure Regulator with BUY IT NOW option only!
Click Make an offer if you do not want Sard Regulator.
Choice of either Silver or Blue Regulator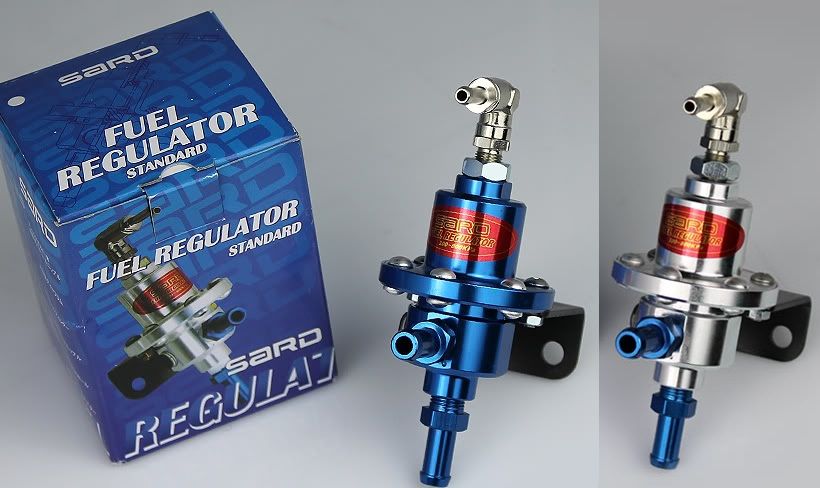 AUCTION INCLUDES A SET OF 6pcs Bosch 850cc Injectors
Alcohol Compatible!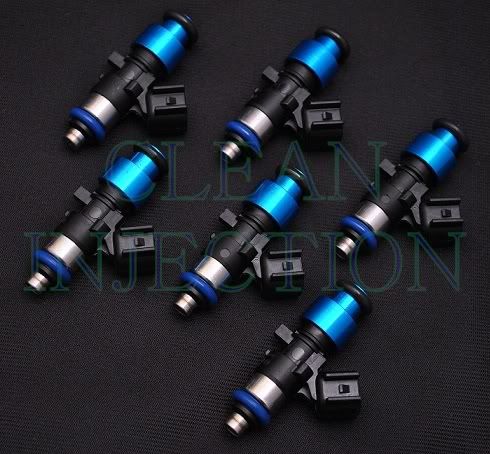 Auction includes RB25DET R33 GTS-T Top-Feed High Flow Fuel Rail Kit
Your Choice of Either Anodized HKS Purple or High Polished Aluminum. 

Auction Includes a set of 6(pcs) Plug and Play Injector connector adaptors.
Plugs right into factory injector harness. No cutting or soldering wires necessary! 
Fitment:
Nissan with R33 GTS-T RB25DET engine with factory or forward facing intake manifold. Will not fit GReddy intake manifold. Please email me for fuel rail that fits GReddy intake manifold.
.
Injector specs:
Static Flow Rate (GAS): 85 lb/hr  = 850cc/
Coil Resistance: 12 Ohms (This high-impedance injector will work with all factory ECM/PCM injector drivers) 
Spray Pattern: Single Hole 30 Degree Cone Spray Pattern 
Connector: (Bosch EV6) Pigtail Injector Connectors Included!
Items Included:
New 6* 850cc Bosch injectorsNew RB25DET R33 Top-feed Fuel Rail Complete Conversion kitNew Set of 6 Plug and Play Injector Connector adaptors
IF YOU HAVE ANY QUESTIONS OR CONCERNS, FEEL FREE TO EMAIL ME AT cleaninjection(at)msn.com