Home>Products>Maintenance Products Air Driven Oil Injector>Genuine BMW E60N E61N E70N E71 E81 E82 Oil Spraying Injector OEM 13527797909
English
Genuine BMW E60N E61N E70N E71 E81 E82 Oil Spraying Injector OEM 13527797909
Original

Original

C/O,C/Q,Follow Your Demand

1 PCS

Welcome To Contact With Us

Original Packing

Within 3-5 Working Days After Receive Your Bank Receipt

L/C,D/A,D/P,T/T,Western Union,MoneyGram

Enough Stock
Product Details
Condition:
New
Brand:
BMW
MPN:
114d 116d 116d ed 118d 118dX 120d 120dX 123d 125d
Manufacturer Part Number:
13527797909 / 13 52 7 797 909 / 7797909
Product Description
Fitment & DescriptionItem Name: Oil Spraying NozzlePart Brand: BMWOEM Numbers: 13527797909 / 13 52 7 797 909 / 7797909
Will this item fit your vehicle?
To ensure You order the correct part for your cars particular make and model, please pay careful attention to the Item Specifics and Description.
If You are not sure about what exactly You need - feel free to contact Us every working day (except on weekend) and get professional assistance within 24 hours - that way You will get the right part and do not need to deal with returns - save your time!
Pictures Click the picture to enlarge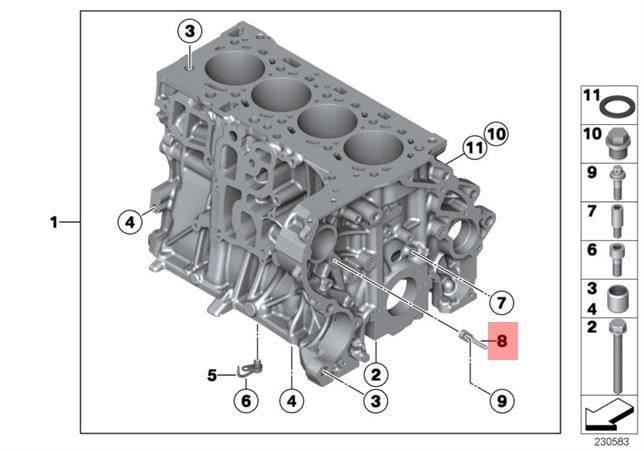 Fitment
Brand
Chassis
Model
Engine
Year From
Body
Production
BMWF20114dN47N2012/115 doors2012-2015BMWF20N114dN47N2015/035 doors2014-2015BMWF20N114dB372015/075 doors2014-2015BMWF21114dN47N2012/113 doors2012-2015BMWF21N114dN47N2015/033 doors2014-2015BMWF21N114dB372015/073 doors2015-2015BMWE81116dN472009/033 doors2008-2011BMWE87N116dN472009/035 doors2008-2011BMWF20116dN47N2011/075 doors2010-2015BMWF20N116dB372015/035 doors2014-2015BMWF21116dN47N2012/073 doors2012-2015BMWF21N116dB372015/033 doors2014-2015BMWF20116d edN47N2012/035 doors2011-2015BMWF20N116d edB372015/035 doors2014-2015BMWF21116d edN47N2012/073 doors2011-2015BMWF21N116d edB372015/033 doors2014-2015BMWE81118dN472007/033 doors2006-2011BMWE82118dN472009/09Coupe2009-2013BMWE87N118dN472007/035 doors2006-2011BMWE88118dN472008/09Cabrio2008-2013BMWF20118dN47N2011/075 doors2010-2015BMWF20118dN47N2013/035 doors2010-2015BMWF20N118dB472015/035 doors2014-2015BMWF21118dN47N2012/073 doors2010-2015BMWF21N118dB472015/033 doors2014-2015BMWF20118dXN47N2013/075 doors2012-2015BMWF20N118dXB472015/035 doors2014-2015BMWF21118dXN47N2013/073 doors2012-2015BMWF21N118dXB472015/033 doors2014-2015BMWE81120dN472007/033 doors2006-2011BMWE82120dN472007/09Coupe2006-2013BMWE87N120dN472007/035 doors2006-2011BMWE88120dN472008/03Cabrio2007-2013BMWF20120dN47N2011/075 doors2010-2015BMWF20N120dB472015/035 doors2014-2015BMWF21120dN47N2012/113 doors2012-2015BMWF21N120dB472015/033 doors2014-2015BMWF20120dXN47N2012/115 doors2010-2015BMWF20120dXN47N2013/035 doors2010-2015BMWF20N120dXB472015/035 doors2014-2015BMWF21120dXN47N2012/113 doors2012-2015BMWF21N120dXB472015/033 doors2014-2015BMWE81123dN47S2007/093 doors2007-2011BMWE82123dN47S2007/09Coupe2006-2013BMWE87N123dN47S2007/095 doors2007-2011BMWE88123dN47S2008/09Cabrio2008-2013BMWF20125dN47S12012/035 doors2010-2015BMWF20N125dB472015/035 doors2014-2015BMWF21125dN47S12012/073 doors2010-2015BMWF21N125dB472015/033 doors2014-2015BMWF45214dB372015/03Active Tourer2014-2015BMWF46214dB372015/07Gran Tourer2014-2015BMWF45216dB372014/11Active Tourer2014-2015BMWF46216dB372015/03Gran Tourer2014-2015BMWF22218dN47N2014/03Coupe2012-2015BMWF22218dB472015/07Coupe2014-2015BMWF23218dB472015/07Cabrio2014-2015BMWF45218dB472014/07Active Tourer2013-2015BMWF46218dB472015/03Gran Tourer2014-2015BMWF22220dN47N2013/11Coupe2012-2014BMWF22220dB472014/11Coupe2013-2015BMWF23220dB472014/11Cabrio2014-2015BMWF45220dB472014/11Active Tourer2014-2015BMWF46220dB472015/07Gran Tourer2014-2015BMWF22220dXB472015/03Coupe2013-2015BMWF45220dXB472014/11Active Tourer2014-2015BMWF46220dXB472015/03Gran Tourer2014-2015BMWF22225dN47S12014/03Coupe2012-2015BMWF22225dB472015/07Coupe2014-2015BMWF23225dB472015/07Cabrio2014-2015BMWE90N316dN472009/09Saloon2009-2010BMWE90N316dN47N2010/03Saloon2009-2011BMWE91N316dN47N2010/03Wagon2009-2012BMWF30316dN47N2012/03Saloon2011-2015BMWF30316dB472015/03Saloon2014-2015BMWF30N316dB472015/07Saloon2014-2015BMWF31316dN47N2012/11Wagon2012-2015BMWF31316dB472015/03Wagon2014-2015BMWF31N316dB472015/07Wagon2015-2015BMWE90318dN472007/09Saloon2007-2008BMWE90N318dN472008/09Saloon2007-2010BMWE90N318dN47N2010/03Saloon2009-2011BMWE91318dN472007/09Wagon2007-2008BMWE91N318dN472008/09Wagon2008-2010BMWE91N318dN47N2010/03Wagon2009-2012BMWF30318dN47N2012/03Saloon2011-2015BMWF30318dN47N2012/08Saloon2011-2015BMWF30N318dB472015/07Saloon2014-2015BMWF30N318dB472015/08Saloon2014-2015BMWF31318dN47N2012/11Wagon2011-2015BMWF31N318dB472015/07Wagon2014-2015BMWF34318dN47N2013/03Gran Turismo2012-2015BMWF34318dB472015/07Gran Turismo2014-2015BMWF30318dXN47N2013/07Saloon2012-2015BMWF30N318dXB472015/07Saloon2014-2015BMWF31318dXN47N2013/07Wagon2012-2015BMWF31N318dXB472015/07Wagon2014-2015BMWE90320dN472007/09Saloon2007-2008BMWE90320dN472007/10Saloon2007-2008BMWE90320dN472008/02Saloon2007-2008BMWE90N320dN472008/09Saloon2007-2010BMWE90N320dN472008/10Saloon2007-2010BMWE90N320dN472009/05Saloon2007-2010BMWE90N320dN472009/06Saloon2007-2010BMWE90N320dN47N2010/03Saloon2009-2011BMWE90N320dN47N2010/04Saloon2009-2011BMWE91320dN472007/09Wagon2007-2008BMWE91N320dN472008/09Wagon2007-2010BMWE91N320dN47N2010/03Wagon2009-2012BMWE92320dN472007/03Coupe2005-2010BMWE92N320dN47N2010/03Coupe2008-2013BMWE93320dN472008/03Cabrio2007-2010BMWE93N320dN47N2010/03Cabrio2008-2013BMWF30320dN47N2011/11Saloon2011-2015BMWF30320dN47N2012/01Saloon2011-2015BMWF30320dN47N2012/02Saloon2011-2015BMWF30320dN47N2012/03Saloon2011-2015BMWF30N320dB472015/07Saloon2014-2015BMWF30N320dN47N2015/07Saloon2014-2015BMWF30N320dB472015/08Saloon2014-2015BMWF30N320dN47N2015/08Saloon2014-2015BMWF31320dN47N2012/07Wagon2011-2015BMWF31N320dB472015/07Wagon2014-2015BMWF31N320dN47N2015/07Wagon2015-2015BMWF34320dN47N2013/03Gran Turismo2012-2015BMWF34320dN47N2013/07Gran Turismo2013-2015BMWF34320dN47N2013/09Gran Turismo2013-2015BMWF34320dN47N2013/11Gran Turismo2013-2015BMWF34320dB472015/07Gran Turismo2014-2015BMWE90N320d edN47N2010/03Saloon2009-2011BMWE91N320d edN47N2011/03Wagon2010-2012BMWF30320d edN47N2011/11Saloon2011-2015BMWF30320d edN47N2012/08Saloon2011-2015BMWF30N320d edB472015/07Saloon2014-2015BMWF31320d edN47N2013/03Wagon2012-2015BMWF31N320d edB472015/07Wagon2014-2015BMWF30320dXN47N2012/08Saloon2011-2015BMWF30320dXN47N2012/10Saloon2011-2015BMWF30320dXN47N2013/03Saloon2011-2015BMWF30N320dXB472015/07Saloon2014-2015BMWF31320dXN47N2013/03Wagon2011-2015BMWF31N320dXB472015/07Wagon2015-2015BMWF34320dXN47N2013/07Gran Turismo2012-2015BMWF34320dXB472015/07Gran Turismo2014-2015BMWE90N320xdN472008/09Saloon2007-2010BMWE90N320xdN47N2010/03Saloon2009-2011BMWE91N320xdN472008/09Wagon2007-2010BMWE91N320xdN47N2010/03Wagon2009-2012BMWE92320xdN472008/09Coupe2008-2010BMWE92N320xdN47N2010/03Coupe2008-2013BMWE90N325dN572010/03Saloon2009-2011BMWE91N325dN572010/03Wagon2009-2012BMWE92N325dN572010/03Coupe2009-2013BMWE93N325dN572010/03Cabrio2009-2013BMWF30325dN47S12013/03Saloon2011-2015BMWF30325dN47S12013/07Saloon2011-2015BMWF30N325dN47S12015/07Saloon2015-2015BMWF31325dN47S12013/03Wagon2012-2015BMWF31N325dN47S12015/07Wagon2015-2015BMWF34325dN47S12013/07Gran Turismo2012-2015BMWF30328dN47N2013/07Saloon2011-2015BMWF30N328dN47N2015/07Saloon2014-2015BMWF30328dXN47N2013/07Saloon2011-2015BMWF30N328dXN47N2015/07Saloon2014-2015BMWF31328dXN47N2013/07Wagon2012-2015BMWF31N328dXN47N2015/07Wagon2015-2015BMWE90N330dN572008/09Saloon2007-2011BMWE90N330dN572008/10Saloon2007-2011BMWE91N330dN572008/09Wagon2007-2012BMWE92330dN572008/09Coupe2008-2010BMWE92N330dN572010/03Coupe2009-2013BMWE93330dN572009/03Cabrio2008-2010BMWE93N330dN572010/03Cabrio2009-2013BMWF30330dN57N2012/07Saloon2011-2015BMWF30330dN57N2012/12Saloon2011-2015BMWF30N330dN57N2015/07Saloon2015-2015BMWF30N330dN57N2015/08Saloon2015-2015BMWF31330dN57N2012/07Wagon2011-2015BMWF31N330dN57N2015/07Wagon2014-2015BMWF34330dN57N2014/03Gran Turismo2013-2015BMWF30330dXN57N2013/03Saloon2011-2015BMWF30N330dXN57N2015/07Saloon2015-2015BMWF31330dXN57N2013/03Wagon2011-2015BMWF31N330dXN57N2015/07Wagon2015-2015BMWF34330dXN57N2014/03Gran Turismo2013-2015BMWE90N330xdN572008/09Saloon2007-2011BMWE91N330xdN572008/09Wagon2007-2012BMWE92330xdN572008/09Coupe2008-2010BMWE92N330xdN572010/03Coupe2010-2013BMWF30335dXN57Z2013/07Saloon2012-2015BMWF30N335dXN57Z2015/07Saloon2015-2015BMWF31335dXN57Z2013/11Wagon2013-2015BMWF31N335dXN57Z2015/07Wagon2015-2015BMWF34335dXN57Z2014/03Gran Turismo2013-2015BMWF32418dB472015/03Coupe2014-2015BMWF36418dN47N2014/03Gran Coupe2013-2015BMWF36418dB472015/07Gran Coupe2015-2015BMWF32420dN47N2013/07Coupe2012-2015BMWF32420dB472015/03Coupe2014-2015BMWF33420dN47N2013/11Cabrio2013-2015BMWF33420dB472015/07Cabrio2014-2015BMWF36420dN47N2014/03Gran Coupe2013-2015BMWF36420dB472015/03Gran Coupe2014-2015BMWF32420dXN47N2013/11Coupe2012-2015BMWF32420dXB472015/03Coupe2014-2015BMWF36420dXN47N2014/03Gran Coupe2013-2015BMWF36420dXB472015/03Gran Coupe2014-2015BMWF32425dN47S12014/03Coupe2012-2015BMWF33425dN47S12014/07Cabrio2013-2015BMWF32430dN57N2013/11Coupe2012-2015BMWF33430dN57N2014/07Cabrio2013-2015BMWF36430dN57N2014/07Gran Coupe2013-2015BMWF32430dXN57N2014/03Coupe2012-2015BMWF36430dXN57N2014/07Gran Coupe2013-2015BMWF32435dXN57Z2013/11Coupe2012-2015BMWF33435dXN57Z2014/07Cabrio2013-2015BMWF36435dXN57Z2014/07Gran Coupe2013-2015BMWF10N518dN47N2013/07Saloon2012-2014BMWF10N518dB472014/07Saloon2013-2015BMWF11N518dN47N2013/07Wagon2012-2014BMWF11N518dB472014/07Wagon2014-2015BMWE60N520dN472007/09Saloon2006-2009BMWE60N520dN472008/03Saloon2006-2009BMWE60N520dN472008/03Saloon2008-2009BMWE61N520dN472007/09Wagon2006-2010BMWF07520dN47N2012/07Gran Turismo2011-2013BMWF07N520dN47N2013/07Gran Turismo2012-2015BMWF10520dN47N2010/06Saloon2009-2013BMWF10520dN47N2010/07Saloon2009-2013BMWF10520dN47N2010/08Saloon2009-2013BMWF10520dN47N2010/09Saloon2009-2013BMWF10520dN47N2011/11Saloon2009-2013BMWF10N520dN47N2013/07Saloon2012-2015BMWF10N520dB472014/07Saloon2013-2015BMWF11520dN47N2010/06Wagon2009-2013BMWF11N520dN47N2013/07Wagon2012-2015BMWF11N520dB472014/07Wagon2013-2015BMWF10520d edN47N2011/09Saloon2011-2013BMWF10N520dXN47N2013/07Saloon2012-2014BMWF10N520dXB472014/07Saloon2013-2015BMWF11N520dXN47N2013/07Wagon2012-2014BMWF11N520dXB472014/07Wagon2013-2015BMWF10525dN572010/03Saloon2009-2011BMWF10525dN572010/06Saloon2009-2011BMWF10525dN47S12011/09Saloon2010-2013BMWF10N525dN47S12013/07Saloon2012-2015BMWF11525dN572010/09Wagon2009-2011BMWF11525dN47S12011/09Wagon2010-2013BMWF11N525dN47S12013/07Wagon2012-2015BMWF10525dXN47S12011/09Saloon2010-2013BMWF10525dXN47S12011/12Saloon2010-2013BMWF10N525dXN47S12013/07Saloon2012-2015BMWF11525dXN47S12011/09Wagon2010-2013BMWF11N525dXN47S12013/07Wagon2012-2015BMWF07530dN572009/08Gran Turismo2008-2012BMWF07530dN57N2012/07Gran Turismo2011-2013BMWF07N530dN57N2013/07Gran Turismo2012-2015BMWF10530dN572010/01Saloon2009-2011BMWF10530dN572010/04Saloon2009-2011BMWF10530dN57N2011/09Saloon2010-2013BMWF10N530dN57N2013/07Saloon2012-2015BMWF11530dN572010/06Wagon2009-2011BMWF11530dN57N2011/09Wagon2010-2013BMWF11N530dN57N2013/07Wagon2012-2015BMWF07530d 155kWN572010/09Gran Turismo2010-2012BMWF07530dXN572010/06Gran Turismo2009-2012BMWF07530dXN57N2012/07Gran Turismo2011-2013BMWF07N530dXN57N2013/07Gran Turismo2012-2015BMWF10530dXN57N2011/03Saloon2010-2013BMWF10530dXN57N2011/06Saloon2010-2013BMWF10N530dXN57N2013/07Saloon2012-2015BMWF11530dXN57N2011/03Wagon2010-2013BMWF11N530dXN57N2013/07Wagon2012-2015BMWF07535dN57S2010/03Gran Turismo2009-2012BMWF07535dN57Z2012/07Gran Turismo2011-2013BMWF07N535dN57Z2013/07Gran Turismo2012-2015BMWF10535dN57S2010/09Saloon2009-2011BMWF10535dN57Z2011/09Saloon2010-2013BMWF10N535dN57Z2013/07Saloon2012-2015BMWF10N535dN57N2013/07Saloon2012-2015BMWF11535dN57S2010/09Wagon2009-2011BMWF11535dN57Z2011/09Wagon2010-2013BMWF11N535dN57Z2013/07Wagon2012-2015BMWF07535dXN57S2010/09Gran Turismo2009-2012BMWF07535dXN57Z2012/07Gran Turismo2011-2013BMWF07N535dXN57Z2013/07Gran Turismo2012-2015BMWF10535dXN57Z2011/09Saloon2010-2013BMWF10N535dXN57Z2013/07Saloon2012-2015BMWF10N535dXN57N2013/07Saloon2012-2015BMWF11535dXN57Z2011/09Wagon2010-2013BMWF11N535dXN57Z2013/07Wagon2013-2015BMWF06640dN57Z2012/03Gran Coupe2011-2015BMWF06N640dN57Z2015/03Gran Coupe2014-2015BMWF12640dN57Z2011/09Cabrio2010-2015BMWF12N640dN57Z2015/03Cabrio2014-2015BMWF13640dN57Z2011/09Coupe2010-2015BMWF13N640dN57Z2015/03Coupe2014-2015BMWF06640dXN57Z2013/03Gran Coupe2012-2015BMWF06N640dXN57Z2015/03Gran Coupe2014-2015BMWF12640dXN57Z2012/03Cabrio2011-2015BMWF12N640dXN57Z2015/03Cabrio2014-2015BMWF13640dXN57Z2012/03Coupe2011-2015BMWF13N640dXN57Z2015/03Coupe2014-2015BMWF01730dN572008/09Saloon2007-2012BMWF01N730dN57N2012/07Saloon2011-2015BMWF01N730dXN57N2012/07Saloon2011-2015BMWF02730LdN572009/03Saloon2007-2012BMWF02730LdN572009/04Saloon2007-2012BMWF02730LdN572011/09Saloon2007-2012BMWF02N730LdN57N2012/07Saloon2011-2015BMWF01740dN57S2009/09Saloon2007-2012BMWF01N740dN57Z2012/07Saloon2011-2015BMWF01740dXN57S2010/09Saloon2010-2012BMWF01N740dXN57Z2012/07Saloon2011-2015BMWF02N740LdXN57N2014/03Saloon2013-2015BMWF01N750dXN57X2012/07Saloon2011-2015BMWF02N750LdXN57X2012/07Saloon2011-2015BMWF55Cooper DB372014/075 doors2013-2015BMWF56Cooper DB372013/123 doors2013-2015BMWR55NCooper D 1.6N47N2010/08Clubman2009-2014BMWR56NCooper D 1.6N47N2010/08Coupe2009-2013BMWR57NCooper D 1.6N47N2010/08Cabrio2009-2015BMWR60Cooper D 1.6N47N2010/08Countryman2010-2015BMWR61Cooper D 1.6N47N2012/11Paceman2012-2015BMWR55NCooper D 2.0N47N2011/03Clubman2010-2014BMWR56NCooper D 2.0N47N2011/03Coupe2010-2013BMWR57NCooper D 2.0N47N2011/03Cabrio2010-2015BMWR60Cooper D 2.0N47N2011/03Countryman2010-2015BMWR60Cooper D 2.0N47N2012/12Countryman2010-2015BMWR60Cooper D 2.0N47N2013/03Countryman2010-2015BMWR61Cooper D 2.0N47N2012/11Paceman2012-2015BMWR60Cooper DX 1.6N47N2010/08Countryman2010-2015BMWR61Cooper DX 1.6N47N2012/11Paceman2012-2015BMWR60Cooper DX 2.0N47N2011/03Countryman2010-2015BMWR61Cooper DX 2.0N47N2012/11Paceman2012-2015BMWF55Cooper SDB472014/075 doors2013-2015BMWF56Cooper SDB472014/073 doors2013-2015BMWR55NCooper SDN47N2011/03Clubman2009-2014BMWR56NCooper SDN47N2011/03Coupe2009-2013BMWR57NCooper SDN47N2011/03Cabrio2009-2015BMWR58Cooper SDN47N2011/07Coupe2010-2015BMWR59Cooper SDN47N2011/11Roadster2011-2015BMWR60Cooper SDN47N2011/03Countryman2010-2015BMWR61Cooper SDN47N2012/11Paceman2012-2015BMWR60Cooper SDXN47N2011/03Countryman2010-2015BMWR60Cooper SDXN47N2013/03Countryman2010-2015BMWR61Cooper SDXN47N2012/11Paceman2012-2015BMWF10M550dXN57X2012/03Saloon2010-2013BMWF10NM550dXN57X2013/07Saloon2012-2015BMWF11M550dXN57X2012/03Wagon2010-2013BMWF11NM550dXN57X2013/07Wagon2012-2015BMWF55One DB372014/115 doors2014-2015BMWF56One DB372014/033 doors2013-2015BMWR55NOne DN47N2010/08Clubman2010-2014BMWR56NOne DN47N2010/08Coupe2009-2013BMWR60One DN47N2010/08Countryman2010-2015BMWE84X1 16dN47N2012/07SUV2012-2015BMWE84X1 16dN47N2013/03SUV2012-2015BMWE84X1 18dN472009/12SUV2008-2012BMWE84X1 18dN47N2012/07SUV2011-2015BMWE84X1 18dXN472009/12SUV2008-2012BMWE84X1 18dXN47N2012/07SUV2011-2015BMWE84X1 20dN472009/09SUV2008-2012BMWE84X1 20dN472010/09SUV2008-2012BMWE84X1 20dN472010/12SUV2008-2012BMWE84X1 20dN472011/11SUV2008-2012BMWE84X1 20dN47N2012/07SUV2011-2015BMWE84X1 20d edN47N2011/09SUV2011-2015BMWE84X1 20dXN472009/09SUV2008-2012BMWE84X1 20dXN472010/08SUV2008-2012BMWE84X1 20dXN472010/09SUV2008-2012BMWE84X1 20dXN47N2012/07SUV2011-2015BMWE84X1 23dXN47S2009/09SUV2008-2012BMWE84X1 25dXN47S12012/07SUV2011-2015BMWE83NX3 1.8dN472009/06SUV2009-2010BMWF25X3 18dN47N2012/10SUV2011-2014BMWF25X3 18dB472014/04SUV2013-2015BMWE83NX3 2.0dN472007/09SUV2006-2010BMWE83NX3 2.0dN472008/03SUV2007-2010BMWE83NX3 2.0dN472008/12SUV2007-2010BMWF25X3 20dXN47N2010/09SUV2009-2015BMWF25X3 20dXN47N2010/12SUV2009-2015BMWF25X3 20dXN47N2011/01SUV2009-2015BMWF25X3 20dXN47N2012/02SUV2009-2015BMWF25X3 20dXN47N2012/08SUV2009-2015BMWF25X3 20dXB472014/04SUV2013-2015BMWF25X3 28dXN47N2014/04SUV2013-2015BMWF25X3 30dXN57N2011/04SUV2009-2015BMWF25X3 30dXN57N2011/05SUV2009-2015BMWF25X3 30dXN57N2011/06SUV2009-2015BMWF25X3 35dXN57Z2011/10SUV2011-2015BMWF26X4 20dXB472014/04SAC2013-2015BMWF26X4 20dXB472015/04SAC2013-2015BMWF26X4 30dXN57N2014/04SAC2013-2015BMWF26X4 30dXN57N2015/04SAC2013-2015BMWF26X4 35dXN57Z2014/04SAC2013-2015BMWF15X5 25dN47S12013/12SUV2012-2015BMWF15X5 25dN47S12014/04SUV2014-2015BMWF15X5 25dB472015/08SUV2014-2015BMWF15X5 25dXN47S12013/12SUV2012-2015BMWF15X5 25dXN57N2014/04SUV2014-2015BMWF15X5 25dXN47S12015/01SUV2014-2015BMWF15X5 25dXB472015/08SUV2014-2015BMWE70NX5 30dXN572010/04SUV2009-2013BMWF15X5 30dXN57N2013/08SUV2012-2015BMWF15X5 30dXN57N2013/12SUV2012-2015BMWF15X5 30dXN57N2014/02SUV2012-2015BMWF15X5 35dXN57N2013/12SUV2012-2015BMWE70NX5 40dXN57S2010/04SUV2009-2013BMWF15X5 40dXN57Z2013/12SUV2013-2015BMWF15X5 40dXN57Z2014/04SUV2013-2015BMWE70NX5 M50dXN57X2012/04SUV2011-2013BMWF15X5 M50dXN57X2013/08SUV2012-2015BMWE71X6 30dXN572010/04SAC2009-2014BMWF16X6 30dXN57N2014/08SAC2013-2015BMWF16X6 30dXN57N2014/12SAC2013-2015BMWE71X6 40dXN57S2010/04SAC2009-2014BMWF16X6 40dXN57Z2014/12SAC2014-2015BMWE71X6 M50dXN57X2012/04SAC2011-2014BMWF16X6 M50dXN57X2014/08SAC2013-2015MiniF20114dN47N2012/115 doors2012-2015MiniF20N114dN47N2015/035 doors2014-2015MiniF20N114dB372015/075 doors2014-2015MiniF21114dN47N2012/113 doors2012-2015MiniF21N114dN47N2015/033 doors2014-2015MiniF21N114dB372015/073 doors2015-2015MiniE81116dN472009/033 doors2008-2011MiniE87N116dN472009/035 doors2008-2011MiniF20116dN47N2011/075 doors2010-2015MiniF20N116dB372015/035 doors2014-2015MiniF21116dN47N2012/073 doors2012-2015MiniF21N116dB372015/033 doors2014-2015MiniF20116d edN47N2012/035 doors2011-2015MiniF20N116d edB372015/035 doors2014-2015MiniF21116d edN47N2012/073 doors2011-2015MiniF21N116d edB372015/033 doors2014-2015MiniE81118dN472007/033 doors2006-2011MiniE82118dN472009/09Coupe2009-2013MiniE87N118dN472007/035 doors2006-2011MiniE88118dN472008/09Cabrio2008-2013MiniF20118dN47N2011/075 doors2010-2015MiniF20118dN47N2013/035 doors2010-2015MiniF20N118dB472015/035 doors2014-2015MiniF21118dN47N2012/073 doors2010-2015MiniF21N118dB472015/033 doors2014-2015MiniF20118dXN47N2013/075 doors2012-2015MiniF20N118dXB472015/035 doors2014-2015MiniF21118dXN47N2013/073 doors2012-2015MiniF21N118dXB472015/033 doors2014-2015MiniE81120dN472007/033 doors2006-2011MiniE82120dN472007/09Coupe2006-2013MiniE87N120dN472007/035 doors2006-2011MiniE88120dN472008/03Cabrio2007-2013MiniF20120dN47N2011/075 doors2010-2015MiniF20N120dB472015/035 doors2014-2015MiniF21120dN47N2012/113 doors2012-2015MiniF21N120dB472015/033 doors2014-2015MiniF20120dXN47N2012/115 doors2010-2015MiniF20120dXN47N2013/035 doors2010-2015MiniF20N120dXB472015/035 doors2014-2015MiniF21120dXN47N2012/113 doors2012-2015MiniF21N120dXB472015/033 doors2014-2015MiniE81123dN47S2007/093 doors2007-2011MiniE82123dN47S2007/09Coupe2006-2013MiniE87N123dN47S2007/095 doors2007-2011MiniE88123dN47S2008/09Cabrio2008-2013MiniF20125dN47S12012/035 doors2010-2015MiniF20N125dB472015/035 doors2014-2015MiniF21125dN47S12012/073 doors2010-2015MiniF21N125dB472015/033 doors2014-2015MiniF45214dB372015/03Active Tourer2014-2015MiniF46214dB372015/07Gran Tourer2014-2015MiniF45216dB372014/11Active Tourer2014-2015MiniF46216dB372015/03Gran Tourer2014-2015MiniF22218dN47N2014/03Coupe2012-2015MiniF22218dB472015/07Coupe2014-2015MiniF23218dB472015/07Cabrio2014-2015MiniF45218dB472014/07Active Tourer2013-2015MiniF46218dB472015/03Gran Tourer2014-2015MiniF22220dN47N2013/11Coupe2012-2014MiniF22220dB472014/11Coupe2013-2015MiniF23220dB472014/11Cabrio2014-2015MiniF45220dB472014/11Active Tourer2014-2015MiniF46220dB472015/07Gran Tourer2014-2015MiniF22220dXB472015/03Coupe2013-2015MiniF45220dXB472014/11Active Tourer2014-2015MiniF46220dXB472015/03Gran Tourer2014-2015MiniF22225dN47S12014/03Coupe2012-2015MiniF22225dB472015/07Coupe2014-2015MiniF23225dB472015/07Cabrio2014-2015MiniE90N316dN472009/09Saloon2009-2010MiniE90N316dN47N2010/03Saloon2009-2011MiniE91N316dN47N2010/03Wagon2009-2012MiniF30316dN47N2012/03Saloon2011-2015MiniF30316dB472015/03Saloon2014-2015MiniF30N316dB472015/07Saloon2014-2015MiniF31316dN47N2012/11Wagon2012-2015MiniF31316dB472015/03Wagon2014-2015MiniF31N316dB472015/07Wagon2015-2015MiniE90318dN472007/09Saloon2007-2008MiniE90N318dN472008/09Saloon2007-2010MiniE90N318dN47N2010/03Saloon2009-2011MiniE91318dN472007/09Wagon2007-2008MiniE91N318dN472008/09Wagon2008-2010MiniE91N318dN47N2010/03Wagon2009-2012MiniF30318dN47N2012/03Saloon2011-2015MiniF30318dN47N2012/08Saloon2011-2015MiniF30N318dB472015/07Saloon2014-2015MiniF30N318dB472015/08Saloon2014-2015MiniF31318dN47N2012/11Wagon2011-2015MiniF31N318dB472015/07Wagon2014-2015MiniF34318dN47N2013/03Gran Turismo2012-2015MiniF34318dB472015/07Gran Turismo2014-2015MiniF30318dXN47N2013/07Saloon2012-2015MiniF30N318dXB472015/07Saloon2014-2015MiniF31318dXN47N2013/07Wagon2012-2015MiniF31N318dXB472015/07Wagon2014-2015MiniE90320dN472007/09Saloon2007-2008MiniE90320dN472007/10Saloon2007-2008MiniE90320dN472008/02Saloon2007-2008MiniE90N320dN472008/09Saloon2007-2010MiniE90N320dN472008/10Saloon2007-2010MiniE90N320dN472009/05Saloon2007-2010MiniE90N320dN472009/06Saloon2007-2010MiniE90N320dN47N2010/03Saloon2009-2011MiniE90N320dN47N2010/04Saloon2009-2011MiniE91320dN472007/09Wagon2007-2008MiniE91N320dN472008/09Wagon2007-2010MiniE91N320dN47N2010/03Wagon2009-2012MiniE92320dN472007/03Coupe2005-2010MiniE92N320dN47N2010/03Coupe2008-2013MiniE93320dN472008/03Cabrio2007-2010MiniE93N320dN47N2010/03Cabrio2008-2013MiniF30320dN47N2011/11Saloon2011-2015MiniF30320dN47N2012/01Saloon2011-2015MiniF30320dN47N2012/02Saloon2011-2015MiniF30320dN47N2012/03Saloon2011-2015MiniF30N320dB472015/07Saloon2014-2015MiniF30N320dN47N2015/07Saloon2014-2015MiniF30N320dB472015/08Saloon2014-2015MiniF30N320dN47N2015/08Saloon2014-2015MiniF31320dN47N2012/07Wagon2011-2015MiniF31N320dB472015/07Wagon2014-2015MiniF31N320dN47N2015/07Wagon2015-2015MiniF34320dN47N2013/03Gran Turismo2012-2015MiniF34320dN47N2013/07Gran Turismo2013-2015MiniF34320dN47N2013/09Gran Turismo2013-2015MiniF34320dN47N2013/11Gran Turismo2013-2015MiniF34320dB472015/07Gran Turismo2014-2015MiniE90N320d edN47N2010/03Saloon2009-2011MiniE91N320d edN47N2011/03


Powered by eBay Turbo Lister
Contact Us
Industrial Bearings Solutions

Email

info@tvrundown.com

Address

32 Jurong Hill, Singapore 628925

Phone(Working Time)

+65(3)1591338

Fax